If you are receiving "The iPod [iPod Name Here] Cannot Be Synced. The Required File Is Locked" error while trying to sync your Apple iPod using iTunes as shown below the fix could be pretty simple.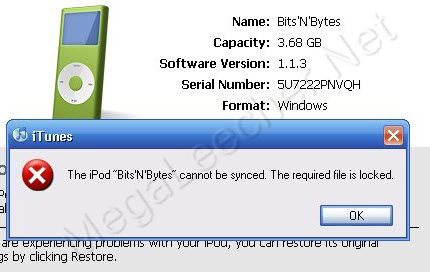 All the error means is that iTunes is unable to read/write to the database file inside your device, their could be several possible reasons for the error which might be recoverable depending on the cause of the error.
There are two common reasons for this error, first being database corruption due to syncing error or physical media corruption and second being library getting locked out for writing due to read-only attribute.
Open My Computer and navigate to your iPod disk, now Right-Click the iPod_Control folder and remove the read-only attribute if on.
Now, Open My Computer, Right-click your iPod disk drive and click Properties.
Goto Tools and click Check Now button from "Error-checking section".

Check "Automatically fix file system error" and Click Start.

Let the scan complete, eject your iPod and reconnect.
If you still receive the error, try restoring your iPod from iTunes.
Source