Note : Some users reported AVG detect
virus
in my previous release, i Fixed Virus Problem in MobiMB 3.6.0.2 for AVG Users.
Scaned with AVG,
kaspersky
, Norton Symantec Antivirus, its 100% clean, No Virus in this version.
Enjoy virus free MobiMB 3.6.0.2 Registered Version.
Special Thanks to Syed Ayaz ul Hassan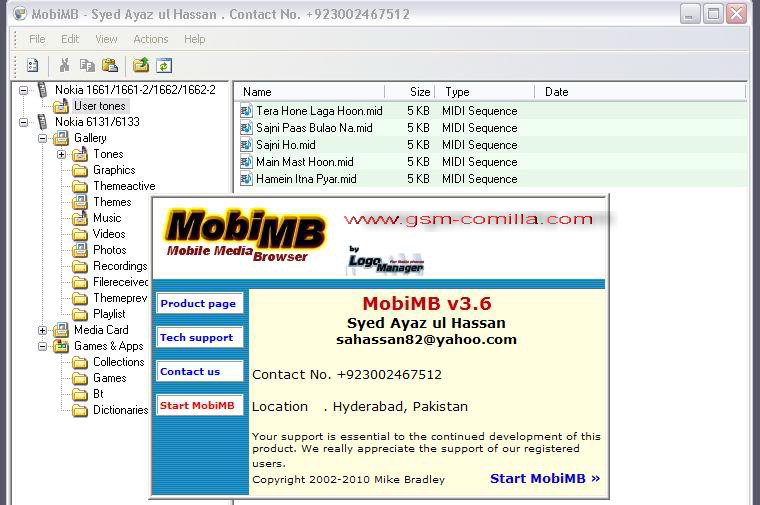 Features
Browse your phone's folders using a simple explorer-style user interface
Drag & drop ringtones and graphics into the phone to use as a ringtone/logo
Manage your photos, music and other media files
Drag & drop Java MIDlets into the Games and Applications folders on your phone
Uploads files without affecting their original quality
Select colour wallpaper, operator logo, startup logos from your PC
Preview images and audio files on your PC (requires media player)
Save your existing files to your PC
New in MobiMB 3.6.0.2
New: Added hardware test option in connection manager
New: Added an option to show the entire system directory in MobiMB (full version only)
New: Added detection support for Nokia 1202, 1203, 1207, 5030 XpressRadio
New: Added 2310B, 2323, 2330c-2, 2330c-2b, 2680 Slide series, 2700 Classic, 3120c-1b, 3600 Slide, 3602 (Slide), 3606, 3608, 3720c
New: Added 5130 XpressMusic, 5220 XpressMusic, 5610 XpressMusic series, 5700 XpressMusic
New: Added 6303, 6500c-5 Classic, 6500s-5 Slide, 6500f-1, 6600i-1c Slide, 6560A, 6700 Classic, 6750-1b Mural
New: Added 7100 Supernova, 7510 Supernova
New: Added file manager detection for 6110
Navigator
, 6120 Classic, 6121 Classic, 6124 Classic, 6210 Navigator, 6290
New: Added file manager detection for 3600 Slide, 6620X, 6650d (Fold), 6710 Navigator, 6720 Classic, 6730 Classic, 6760 Slide, 6790 Slide, 6790 Surge
New: Added file manager detection for E51-2, E52, E72, N76, N77, N78, N79, N81, N82, N85, N86, N92-2, N93i, N95-3 to 6, N96, N97
Tested with Nokia 1110,1112,1202,1203,1208,1209,1600,1650,1661,1662, 1680,2330,2600,2630,2700,5030,7100,5130,6131.